BRUNO
" . . . a cool dog"
November 1993-July 24, 2006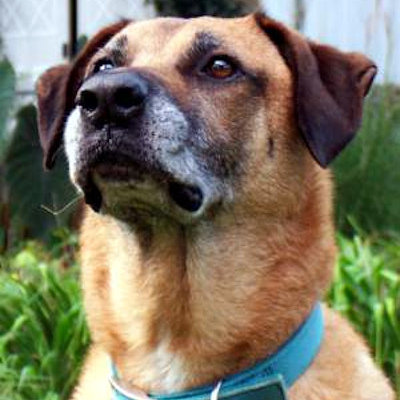 Bruno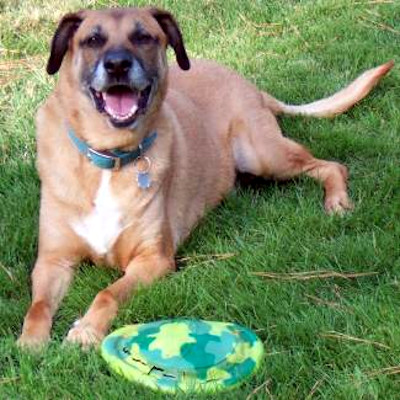 Bruno and his Frisbee
---
Bruno joined our family in Athens OH in 1993 when he was a small puppy. Much of his life was spent on Madison Avenue in Athens where he learned how to play Frisbee and, for a while, chase deer. One of his most exciting experiences as a young dog was having deer dung cleaned out of his ears by Dr. Pete at the Milliron Clinic in Amesville OH. Bruno got so familiar with the deer that when they ran though our property on Madison Avenue, he would run over to his Frisbee to protect it from them. We affectionately called Bruno "The Big Boy" because of his size and gentle disposition. Among his friends were Spike-the-cat, Spook-the-cat, Gipsy (all of whom died before Bruno), Paige, and Jack.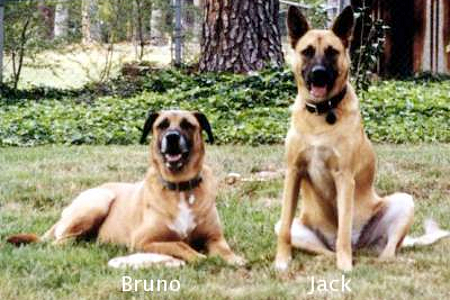 After moving to Stone Mountain GA in 1999, Bruno matured into the Ol' Man in addition to being The Big Boy. He became Jack's mentor when Jack joined the pack. Bruno's kind and gentle manner made him loved by Jack and anyone he met. As the Ol' Man he survived operations for two tumors on his eyelids, one benign tumor on his right hind leg, and a malignant tumor on his right fore leg.
Bruno started to fade in health in the winter of 2005/2006, and by the beginning of April had lost all interest in food and even his beloved Frisbee. Blood tests and x-rays showed that his liver had enlarged. After several days of special/loving care from Dr. G and the staff at the Avondale Veterinary Hospital, Bruno made a fantastic recovery and became his old self again.
Unfortunately, in July 2006 Bruno started to have difficulty urinating. "He tried but he couldn't do it." We ended up spending a lot of time driving to and from the Avondale Veterinary Hospital and the DeKalb-Gwinnett Emergency Animal Clinic to have Bruno's bladder drained with a catheter. For his sake, we sadly decided to have him put to sleep by his caring veterinarians in Avondale Estates when it became clear that he could not regain his health enough to continue enjoying life as he had done for 13 years.
Bruno had a very good life. He was a cool dog. We miss him.
---