SPIKE-THE-CAT
circa 1986-January 3, 2000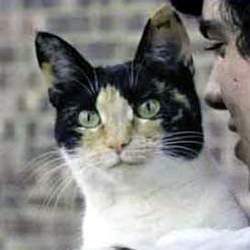 Spike joined our family in 1986 and was a great cat the entire time she was with us. Spike was well-travelled: She lived in several houses in Athens OH, an apartment in Columbus OH, a house in Centerville OH, some apartments in Atlanta, and finally the house on Rowland Road in Stone Mountain where her remains are buried under a holly in the back yard.
Spike's best friend for a number of years was Spook-the-cat, who preceded Spike in death. After Spook's death Spike became much closer to her doggy friends, Bruno and Gipsy. She is/was missed by the people and her favorite dogs.
---