Squash Bread
We had an abundance of summer crookneck squash in 2020 and this is the way we used a lot of it. This recipe originally was for zucchini muffins but we have doubled it and made a few modifications. Excellent breakfast when a thick slice is fried in a little butter or margarine. Also, great with cream cheese.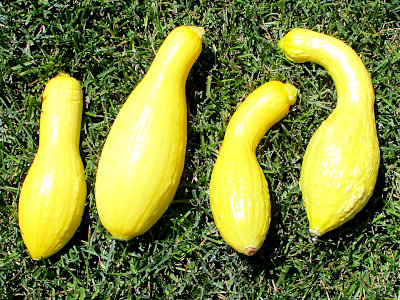 Preheat oven to 350° F.
1-1/2 cup all-purpose flour OR 1 cup all-purpose flour and 1/2 cup whole-wheat flour
3/4 cup sugar
2 cups grated crookneck squash or zucchini
1/2 tsp baking powder
1/2 tsp baking soda
1 tsp ground nutmeg
1 tsp ground cinnamon
1 tsp ground allspice
1 tsp ground ground cloves
1 tsp vanilla extract
1/4 cup corn oil or some other light vegetable oil
1/2 cup raisins
1/4 cup walnut pieces (optional)
2 eggs OR 1 Single Servings Smart Cup of Egg Beaters®
Mix flour, baking powder, baking soda, nutmeg, cinnamon, cloves, and allspice in a large bowl. Stir raisins, walnuts (optional), and grated squash into the flour, making sure to coat all individual pieces with flour. Beat oil, sugar, and eggs until smooth. Add vanilla, mix, pour into flour mixture, and thoroughly mix. Pour into loaf pan and bake at 350° F for 1 hr or maybe a little longer. For our oven in Maple Grove MN 1 hr and 5 min works just right.
To make this recipe vegan, replace the eggs with 1/2 cup apple sauce.